Important Public Records Information
Public Records: Are they available to everyone?
People talk about public records, but not everyone knows what they mean. "Public records" is a pretty broad term that can be hard to pin down. But generally, the term "public record" refers to data that anyone can come across while reviewing official reports that are readily available to the public. One example of this would be when someone searches for a phone number in a phone directory.
Public records are usually assembled from government records, but it is worth noting that not all government records are made available to the public. The government often has regulations concerning the type of data they can release as well as how they are required to store and distribute that data. The government will sometimes keep additional public records about individuals, businesses, and even parts of the government itself.
But in most cases, the term "public record" means the records of an individual person that are available to the public. The United States Freedom of Information Act governs the release of these kinds of governmental public records. During its brief existence, the FOIA has made many government records available to the public. Below is a brief list of some of the most common types of public records:
How to Get Started: Using the Reverse Phone Lookup
Maybe you've gotten a call from a phone number you don't recognize, or maybe you're considering going on a date with someone you don't know that well. You can address both situations by doing a reverse phone lookup. Reverse phone lookups can help you learn more about the people you interact with every day.
Can Just Anyone do a Reverse Phone Lookup?
Anyway can do a reverse phone lookup online, but not every website you come across will be as helpful as you'd prefer them to be. We've all come across those free phone number lookup sites. The problem with these sites is that they often don't work for everyone. For example, a lot of these sites only include information for landline phones. This is because cell networks control access to their own phone numbers, and most often they will not provide access to these numbers unless they are paid to release them.
This is why so many of these "free" phone number sites do not provide access to cell phone info – they can't afford these numbers if they're giving them away for free. In fact, most of these free sites only include approximately half the data that is available. Also, free sites almost never let you perform a criminal background check. But when you finally locate a caller's information using a reverse phone lookup, you'll probably still want to learn more about the person or company you've identified. The good news is that you may still be able to find public records and expand your search with just a single click on a web page.
Will this information be helpful to you?
It certainly might! Because you'll be able to: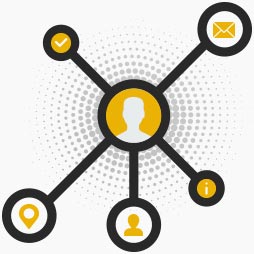 Get All The
Information You Need
Run all reports types to discover
EVEN MORE INFO
NEXT STEP
Look up a friend or colleague
Get their Phone Number
Run a "Reverse Phone Lookup" Report
Review Reverse Phone Report Details
Review All Additional Reports
Learn Something New!